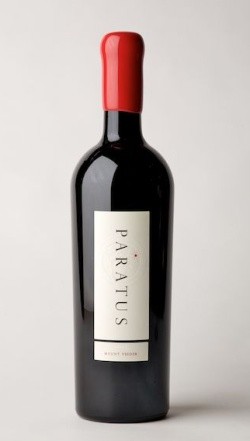 Wine Specs
Varietal
Cabernet Sauvignon
Appellation
Mount Veeder, Napa
Vineyard Designation
Paratus Vineyards
Aging
24 months new French oak
2007 Paratus Mount Veeder Cabernet Sauvignon
Estate Grown
Our 2007 Paratus is SOLD OUT!
To be guaranteed an allocation of each future vintage of PARATUS, as well as access to library vintages and special offereings, we invite you to join the PARATUS Wine Club. As a club member, you will also receive information about special tastings, events and releases.

Wine Profile
Vineyard Notes
12 acre, 1100 - 1400 feet elevation, east facing
Food Pairing Notes
Perfect with juicy steaks and chops of beef, lamb, bison or other large game. Delicious with hearty stews or pastas. Match with a variety of fine cheeses.
Product Reviews
jamie
(Feb 28, 2011 at 1:33 PM)
Bob Borzone
(Mar 3, 2011 at 1:15 PM)
Scott Killips
(Mar 4, 2011 at 8:53 AM)
Jeff Schelble
(Mar 11, 2011 at 1:38 PM)
Evelyn
(Mar 12, 2011 at 1:43 PM)
charles brumder
(Mar 28, 2011 at 7:46 PM)
Edward Fargis
(Jul 22, 2011 at 3:25 PM)
Jeff Strauss
(Feb 11, 2014 at 10:13 AM)
david moran
(Jun 16, 2014 at 10:16 AM)
Mick Morrissey
(Jul 20, 2014 at 7:38 PM)