Dear Friends,
Welcome to the Paratus Vineyards spring newsletter.
Napa Weather
It looks as though the rains that pounded us most of the winter have finally abated and the Napa weather we love so much is here for its annual six-month stretch of sunshine and perfect temperatures. The sun's warm rays are coaxing leaves, flowers, and fruit buds from every corner of Napa, creeks are running, and ponds are full -- all good news for growers throughout California, but particularly uplifting for dry farmers like us. The saturated ground and refreshed aquifers should make for a uniform growing season at Paratus Vineyards.
In the Vineyard
Pruning was pushed back a bit later than normal this year because of the abundant moisture the rains brought, making our steep terraces slick. A few days of sunshine cleared the way for our pruning crews to work their magic, trimming the vines in preparation for the inevitable growth spurt that begins this month. Bud break, which arrived last week, is traditionally later on the mountain than it is on the valley floor; we make up for that with bright, sunny days later in the season when the lower elevations are socked in with fog.
In the Winery
The 2010 growing season was perplexing for many with its cooler-than-normal temperatures, abrupt heat waves and late harvest. At Paratus Vineyards, we took it all in stride, patiently waiting out the fluctuations in weather and avoiding snap decisions that might have led to disappointing results. Therefore, we are quite pleased with the results of last year's labors and excited about the prospects for our 2010 Paratus. The Monticelli brothers and I have chosen the blend of different lots (100% cabernet sauvignon from our estate-grown grapes, of course) and the juice is resting in 21 new French oak barrels. We'll keep you posted on progress there. As I mentioned in our last newsletter, the 2009 Paratus is showing great promise as well. We are planning to bottle that vintage this summer. More on that process as it happens.
In the Glass
With the 2007 nearly sold out, we are now looking forward to the release of the 2008 Paratus. By most accounts, these were two stellar vintages for Napa cabs and we could not be happier with ours. The 2008 is showing beautifully right now with big, dark-fruit flavors and tannins that are balanced and well integrated. The wine has a velvety elegance and fine finish indicative of its Paratus heritage.
Here is a quote from one of our customers: "I have been a believer in Paratus from the beginning. Each vintage gets better and better. One of my francophile wine snobs calls Paratus 'the Margaux of California,' a fine endorsement indeed."
On the Web
We invite you to post your own review of Paratus on the website. Our fans would LOVE to hear about your own experience with Paratus.
Go to:/product/2007-Paratus-Cabernet-Sauvignon?pageID=332e2340-1cc4-81ae-751b-0028fc8619f6&sortBy=DisplayOrder&#productReviewsAnchor
Our website is fully operational with a complete online shopping experience. We ship to nearly every state and, in most cases, you can choose various shipping options. Feel free to email or call us if you have any special shipping requests. On the website, you can also join the Paratus Wine Club that will guarantee allocations of future vintages and provide access to special events and offerings.
On the Town
The Napa Valley has long been just as well known for its wonderful food as for its spectacular wines. The bar continues to rise with many new and exciting eateries opening, especially in downtown Napa. Oenotri: Italian with an emphasis on local, fresh, hand-crafted foods; Morimoto: sushi and exciting dishes from the Iron Chef; Grace's Kitchen: global cuisine with a homey touch; Fish Story (from the Lark Creek folks) and Tyler Florence's Rotisserie and Wine each describe themselves with their names. All are great! And this summer Todd Humphries (Martini House, Greystone) will open his new concept restaurant focusing on "handmade multi-ethnic comfort food" in Napa's downtown Oxbow district. Named Kitchen Door, it will anchor the hustle and bustle of the Oxbow Public Market joining its standout group of eating places and gourmet food and wine shops. http://www.oxbowpublicmarket.com/artisans.htm
Photo Gallery
Our readers loved the photos in our last newsletter so we will continue to share images from the ranch. The focus this time is on vineyard pruning and on the beautiful colors of spring found across the property. Please note that we've added our daughters, Susannah and Isabel, to the credits for their contributions of several photos. Enjoy!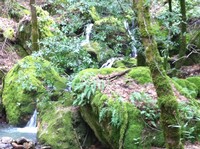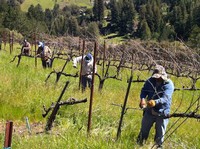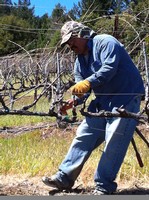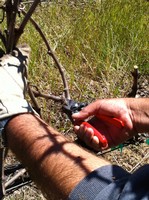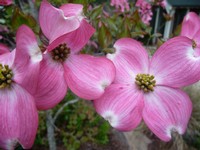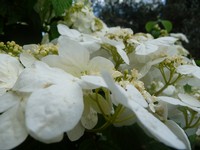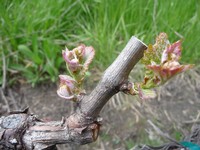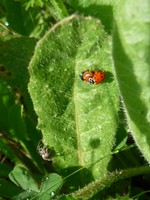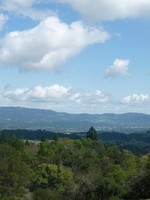 Enjoy the springtime,
Rob and Christina Jennings