Welcome to the Paratus Vineyards newsletter. With this quarterly correspondence, we will give you a peek into life on Mount Veeder and in the Napa Valley, as well as keep you up on developments in the vineyard and the winery, such as announcements of special releases, wine club activities, and events. In future issues we will add wine and food pairings, favorite recipes, and local restaurant news -- anything that relates to Paratus or the Napa lifestyle. As you read it, know that we always welcome your feedback and ideas.
In case you are new to our wine, we have been growing grapes and making Paratus for nearly a decade in Napa, but just recently launched the inaugural commercial release of our Paratus Mount Veeder Cabernet Sauvignon, 2007 vintage. If you have not yet had a chance to visit the Paratus website to read about the history of our vineyard and explore our wines, we invite you to do so at http://paratuswine.com.
Napa Weather
After a holiday season in December and January of deluge (heavy rains and wind with redwood branches scattered throughout the property) and cold (we burned a lot of firewood watching Packer games and had to scrape our car windshields in the mornings), Napa was blessed with two weeks of sunshine and balmy days in early February. While it was delightful to hike the vineyards jacketless and smell the sweet blossoms of wild plums, it was much too early for the vines to think it was spring. Thankfully, this week brought much-needed rains, and even some snow, back to the Napa Valley. It looks as if more rain over the next few weeks may bring water levels back to normal, very important for the 2011 growing season, in general and in particular for our dry-farmed Paratus vineyards.
In the Vineyard
While the skies change from rainy to sunny to rainy again, the vines remain quiet in their dormant sleep, resting up for the big growth push that lies ahead in spring. We will begin pruning in March and look for bud break some time in early April. Vine pruning is one of the most important processes in the life of each vintage, as it sets the stage for growth, yield and quality of the grapes. Our highly skilled crew hand prunes and ties each vine, striving to achieve the perfect balance between canopy growth and limited grape clustering. To learn more about pruning in Napa's vineyards, read the following article written by Sam Turner, our vineyard manager, in a recent issue of the Napa Valley Register:
http://napavalleyregister.com/lifestyles/food-and-cooking/wine/article_3c2dcea6-3005-11e0-b0bf-001cc4c002e0.html
In the Winery
Winter sees a slower pace in the winery after the hubbub of fall's harvest, crush, and fermentation. As I write, the 2010 vintage is settling, its flavors blending, and its qualities beginning to show themselves. Our winemakers, Massimo and Mario, and I sat down last week to taste different lots from various parts of the vineyard and picked at different times. This was a good opportunity for us to explore the character of our vineyard and the nuances of its terroir, as each lot has a slightly different profile - bigger fruit, more structure, deeper color, more voluptuous body. One smaller lot has already made the cut, providing the base for the Paratus 2010 Mount Veeder Cabernet Sauvignon, and is resting in the new French oak barrels that will be its home for the next two years. Other lots are still shaping themselves, expressing their characters in ways that will bring depth, personality, and a unique flavor to Paratus. Sometimes even just two or three percent of a particular lot can enhance the mix in a significant way to produce a distinctive and superior finished wine.
The 2009 Paratus is coming along beautifully and could prove to be another exceptional vintage akin to the 2007 and 2008 which, according to Robert Parker, "are Napa Valley's best back-to-back vintages since 2001 and 2002." I won't disagree -- we are thrilled with both years! Of course, every vineyard and wine is different, but each year we are finding a new depth and elegance in Paratus that exceeds our already high expectations. With the 2007 Paratus as a bellwether, the wine forecast looks quite bright indeed.
In the Glass
Response by wine lovers, restaurants and fine wine shops to our 2007 vintage has been extremely gratifying. Here are some comments we have received recently about it:
"I am in love with Paratus. The '07 is fantastic!"
"This is the best Napa cab I've had…ever!"
"We had dinner at [chic Napa restaurant] last night and I brought the Paratus. I was not prepared for how good it would be!"
"Took a bottle of Paratus to [high-end San Francisco steak house] on Saturday night. I converted another sommelier to Mt. Veeder district! He loved your wine!!"
"Paratus is my absolute favorite Mount Veeder wine."
"Voluptuous."
"Elegant."
"Velvety and delicious."
OK, this next quote is not specifically about the wine, but it is a nice reflection on another aspect of the Paratus experience.
"I must say that your customer service is awesome! It's nice to see that someone cares about their product."
That we do!
On the Web
Our website is fully operational with a complete online shopping experience. We ship to nearly every state and, in most cases, you can choose various shipping options. Feel free to email or call us if you have any special shipping requests. On the website, you can also join the Paratus Wine Club that will guarantee allocations of future vintages and provide access to special events and offerings.
We invite you to post your own review of Paratus on the site. Our fans would LOVE to hear about your own experience with Paratus.
Go to: /product/2007-Paratus-Cabernet-Sauvignon#productReviewsAnchor
On the Trail
One of the great joys of living in Napa, aside from the wine, the food, the weather, and the culture, is the access to some of the most beautiful hiking in the world. Instead of attempting to describe scenes from the trails in words, I will share a few photos from recent walks on Mount Veeder.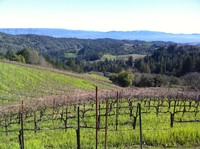 View from Block 1c - Paratus Vineyards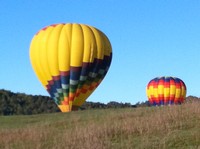 Ballooners finishing a ride over Mt Veeder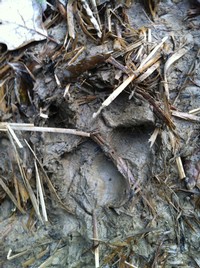 Coyote print on a muddy trail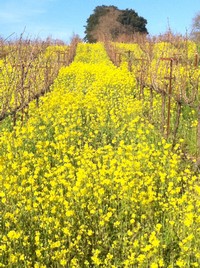 Mustard between the vine rows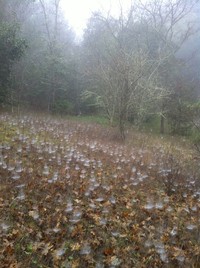 Wintery webs, old plum tree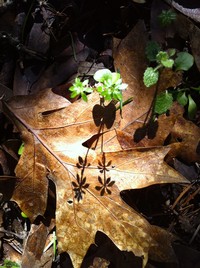 New growth in the woods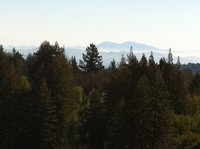 Long view of Mt Diablo from Paratus Vineyards
For more photos from Paratus Vineyards, go to our website: http://paratuswine.com
Thanks again for your support and let us know how you like the newsletter (and the wine).
All the best, Rob