Dear Friends,
When you want to find a great wine on a restaurant wine list, you go to the sommelier. When you want to find a great wine on the world's wine list, you go to a master sommelier. So we went to Master Sommelier Chris Blanchard, one of only 214 experts ever to receive that distinction from the Court of Master Sommeliers, to get his take on our 2009 Paratus:
"Lush blackberry with seeds, the last sip of a mocha, and black olive tapenade. This is a powerful wine with dark, rustic, black fruit, with pleasing notes of smoky oak, cedar, vanilla, clove and nutmeg. There is an immediate richness of velvety ripe fruit with an intense and muscular finish. This is a lovely vintage of Paratus and an amazing example of mountain fruit with elegance."
(Check out this link to a great documentary that we premiered in Napa last year on the master-sommelier testing process.)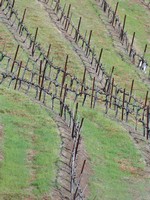 Another one of our master-sommelier fans is also an enthusiastic retail customer. Peter Granoff is proprietor of two of the Bay Area's finest wine sellers, the Ferry Plaza Wine Merchant in San Francisco and the Oxbow Wine Merchant in Napa. Here's what he had to say about the '09:
"With our focus on small, artisanal producers, Paratus was a great addition to our portfolio. It is 100% Mount Veeder Cabernet Sauvignon, and the 2009 delivers a firm, deeply flavored wine with considerable length and complexity. While quite approachable in its youth, we have been tempted to tuck a case or two away in our own cellars with complete faith that 10-15 years aging will be worth the wait."
We could not agree more with these experts and rate the '09 as one of our most sumptuous wines to date. With each month in the bottle, it becomes more satisfying and sophisticated, and we are continually taken by the depth that unfolds in each glass. Imagining how it will taste through another decade is a happy thought! We suggest that you check your inventory of this vintage to make sure that you are prepared for both current and future bacchanals.
Now on to a little weather talk. These days in the Napa Valley the most-oft uttered word is, by far, RAIN. It's like manna from heaven, especially when you haven't seen much of it for almost a year. The good news is that it's raining here today, it rained here last week, and it will rain here again for the next few days. The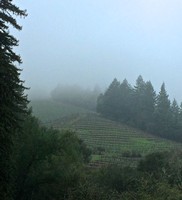 ground is greedily soaking up the moisture and channeling it deep into the fissures and aquifers buried beneath our mountain vineyards, storing the precious liquid for the long, dry growing season ahead. To hear the creek on our property loudly running in what was recently a dusty, dry creekbed is a welcome sound.
The day-in-and-day-out sunshine that has predominated until now fooled many a daffodil bulb, fruit tree and even some grapevines down in
the valley into early blooming. Luckily, our vines continued to slumber deeply and have shown no signs of waking yet. We took advantage of the unseasonable winter clear skies to get a head start on vineyard chores, such as pruning, that we often leave until early spring.
The winemaking team met yesterday at our customary spot, Bistro Don Giovanni, to taste the 2012 and 2013 that are currently aging in barrel. We agree that both are showing the kind of stellar characteristics we tasted while the grapes were still hanging on the vines: deep, rich fruit, balanced tannins, and elegant structures. These wines will still have more time in oak -- another quarter for the 2012 and a year-and-a-half for the 2013 -- before they are bottled. Much to look forward to.
At our extended lunch, we also tasted the 2010 for a final check-in before we release it this spring. Magnificent! This wine has an old-world personality, elegant and feminine, and is well structured. It lingers on the palate, releasing deep, red fruit with notes of chocolate and nutmeg, and a hint of mint on the finish. Prepare yourself for the next Paratus gem.
Attention Paratus Wine Club members: we will provide details on the 2010 release and shipment in April.
Salut!
Rob and Christina Jennings