Confused by these contradictory scenes? So are we! At night on Mt. Veeder temps still dip into the low 30's which is consistent with winters past but daytime has been bringing a steady regimen of sunshine and mercury hitting the high 70's while the usual highs are in the 50's and low 60's. Bulbs are bursting into brightly colored flowers, trees and shrubs are budding, our rosebushes are coming out of hibernation, and the almond trees are in full white, snowy blossom. But it's only FEBRUARY!!! Lovely but not exactly normal. The warmth and low rainfall are creating a dangerous set of conditions for California especially on the heels of the October fires. Thankfully, the forecasts call in the coming weeks for colder, sub-freezing temps at night and perhaps even some much-needed precipitation. That's some good news! We are hoping and praying for this promised rain.
Impact on Paratus?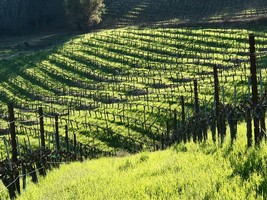 Despite the early bloom of our fruit trees and rose bushes, the Paratus vines fortunately look as they normally should at this time of year - still in deep sleep. So far, there is no visible evidence of trouble in the vineyards from this unseasonable weather, although I know of some cases of early bud break in vineyards down on the valley floor. Never a dull moment in the wine business, people.
Postscript to the Fires
The outpouring of concern and offers of help during last fall's fires meant the world to Christina and me. Both Napa and Sonoma are recovering well as rebuilding projects dot the two counties, including many on Mt. Veeder where over 100 homes burned.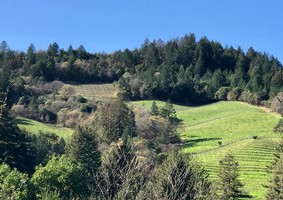 At Paratus, we have spent much of our time during this dry weather clearing burned trees and brush, and making repairs to fences and other infrastructure on the ranch that suffered damage by the fires. Even now, four months post-blaze, we hear an occasional tree falling loudly in the woods. It makes for a different kind of hike when you have to be at the ready to dodge a falling madrone or oak. Our label makes it clear, Nunquam Non Paratus (Never Not Prepared)!
As I reported last fall, we had already harvested and crushed our Paratus grapes when the fires happened, resulting in zero smoke taint to our juice. Whew. The 2017 Paratus is taking shape beautifully as it ages in its oak barrels. We will keep you posted on its progress.
High Scores from the Critics
We we think the current release, the 2013 Paratus, is showing like gangbusters. The critics apparently agree. Wine Enthusiast has awarded it high scores of 90 points for the cab and 93 for the Reserve.
How are you enjoying the 2013 Paratus? Or are you stashing it away for a later date? We have heard from many of our customers who tell us how wonderful they are finding our current vintage. Send us your personal reviews of the 2013 Paratus or any other vintage. We love hearing your stories, seeing your pictures, and sharing the joy of Paratus.
It's Getting Better all the Time
Want something more fully aged for your cellar while the 2013 matures further? Paratus 2009 - 2012 are still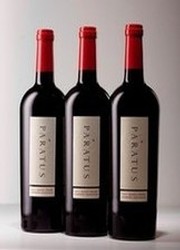 available and we are featuring a 3 bottle vertical of 2010-12 cabernet with a special 10% off through the end of February (use code VERTICAL when ordering).
Club members, whose additional discounts are automatically added at checkout (make sure to log in), also have access to our library wines from 2005 and 2006, two delectable vintages in their prime. And Supremus Club members have the coveted advantage of having access to wines going back to our inaugural 2003 vintage. Please let us know what special verticals we may assemble for your collection.
Write Back Soon
Stay in touch and honor us your photos or stories featuring Paratus. We enjoy sharing them on the Paratus Vineyards Facebook page.
All the best to you this winter and spring,
Rob and Christina