Dear friends,
Our little secret called Paratus has caught the attention of two major wine reviewers! Read what James Laube of Wine Spectator and Antonio Galloni of The Wine Advocate have to say about our current release, the 2008 vintage:
In February's Spectator, Laube says, "Impressive for its mix of dense, concentrated fruit and structure, offering floral aromas, with dried berry, mineral, black cherry and plum fruit that firms up nicely on the finish, pushing past the ripe, fine-grained tannins. Drink now through 2023." - 93 points.
Galloni writes in the December 2011
Advocate about Paratus' "striking" qualities. "The 2008 Cabernet Sauvignon shows gorgeous depth in its bouquet. Deep layers of dark red fruit, flowers, mint and anise flow gracefully from this beautifully delineated Cabernet. The 2008 is striking for its understated finesse and fabulous overall balance." – 92 points.
April In February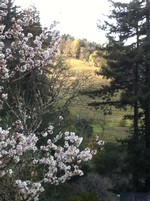 Tracking the weather in California has become a near full-time job of late because of the unseasonable swings in temperature and moisture we have been experiencing.
We started feeling edgy in January when, amid warm, sunny days, one of the wells on the property went dry. There was no need for outright panic, as we don't irrigate our vineyards anyway and the vines are dormant for the winter. It raised a red flag, though, because January is usually our wettest month of the year, filling underground aquifers and providing moisture for the vines during the dry months of summer and fall.
We do admit it was hard not to enjoy the unseasonable sun and warmth in midwinter.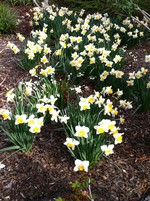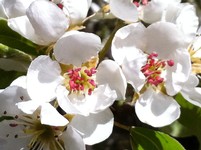 By February, there was still no rain, and nature began to adjust. Fruit trees broke bud while basking in warm breezes and bright sun, showing their blossoms and inviting bees to begin their work. Crocuses and even daffodils poked their bright heads through the warm earth. Perhaps winter was just not going to happen this year, we thought. This raised real concerns for us regarding the vineyard. Would the vines begin their annual push dramatically earlier? Would we face a year of historic drought? Would new and unusual conditions invite unknown pests or diseases?
At Paratus we decided to schedule our pruning earlier, adapting to the conditions. As we are apt to say around here, nunquam non paratus!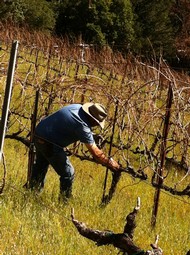 January in March
Just when we thought it might never rain again this year, Mother Nature delivered a series of storms in March that rivaled some of our wettest Januarys. Out like a lion...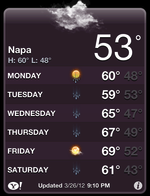 The next six months will have much more impact on the complexion of the 2012 vintage than the past three have, but it is nice to know we'll have water in the ground, thanks to the recent rains.
New Partners
We have just added Illinois to the list of states that include New York, New Jersey and California where we sell Paratus to restaurants and wine stores. Now our friends in the Chicago area will be able to find Paratus on their favorite wine lists.
Acme Fine Wines, a lovely wine boutique in St. Helena in the Napa Valley, will be featuring our 2008 vintage in its Under the Radar Wine Club. The club spotlights soon-to-be-discovered gems.
Vintage News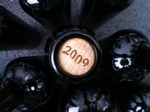 The 2009 Paratus is in bottle and resting before its release late this summer. Very exciting!
Massimo, Mario, and I met last week at our usual spot, Bistro Don Giovanni, to taste our different lots from the 2010 vintage and discuss the final blend recipe. As it turns out, we put together a little surprise. Stay tuned!
2011 was a season of fits and starts weatherwise throughout wine country. At Paratus the challenges brought ripe, deep color and flavor, and lighter yields to our grapes that we are certain will add to the high caliber of this vintage.
Events and Upcoming Dates
Planning a trip to Napa? We would love to see you any time of year, so let us know when you are coming. Also consider some of the following:
May 6, 2012 - Napa's Tour de Cure bike ride to raise money in the fight against diabetes. I'll be riding again and urge anyone interested to check it out.
June 11, 2012 - Private tasting for the Southern California wine trade. Contact: Kimberly Jones Selections.
September 1, 2012 - Paratus 2009 release. Watch for our release announcement.
September 22, 2012 - Mt. Veeder Appellation Wine Tasting. Great chance to taste Paratus alongside dozens of other Mt Veeder wines at the historic Hess Collection winery. Advance tickets available on website.
November 7-11, 2012 - Napa Valley Film Festival. One of the most exciting cultural events of the year. Meet stars, see fantastic films from around the globe, enjoy exquisite wine and food events. Private Paratus event available to Club members.
November 14-18, 2012 - Flavor! Napa Valley. Annual event that features world‐class Napa Valley wines alongside the Napa Valley's master chefs and graduates of The Culinary Institute of America's culinary education programs.
We are very happy to have you as part of the Paratus wine family and encourage you to share this newsletter with your friends.
All the best,
Rob and Christina