Greetings from Napa Valley! We hope this newsletter finds you well. Here's the latest from Paratus Vineyards.
Paratus Earns High Praise From International Wine Publication
According to the January-February 2016 report on Mount Veeder issued by the International Wine Review (IWR), an esteemed publication that provides the wine trade with current information about important world wines, Paratus Vineyards has earned twin scores of 94 for its 2011 and yet-to-be-released 2012, a distinction the magazine bestowed on only a handful of the most exclusive Mount Veeder cabernet sauvignons.
The report also lauds Paratus as "one of the most sought-after Cabs in the appellation," and ranks us among the most exciting winemaking ventures in the entire Napa Valley. IWR attributes this success in part to our combination of some of California's finest terroir for growing Cabernet Sauvignon and the most outstanding winemaking talent found in and around Mount Veeder.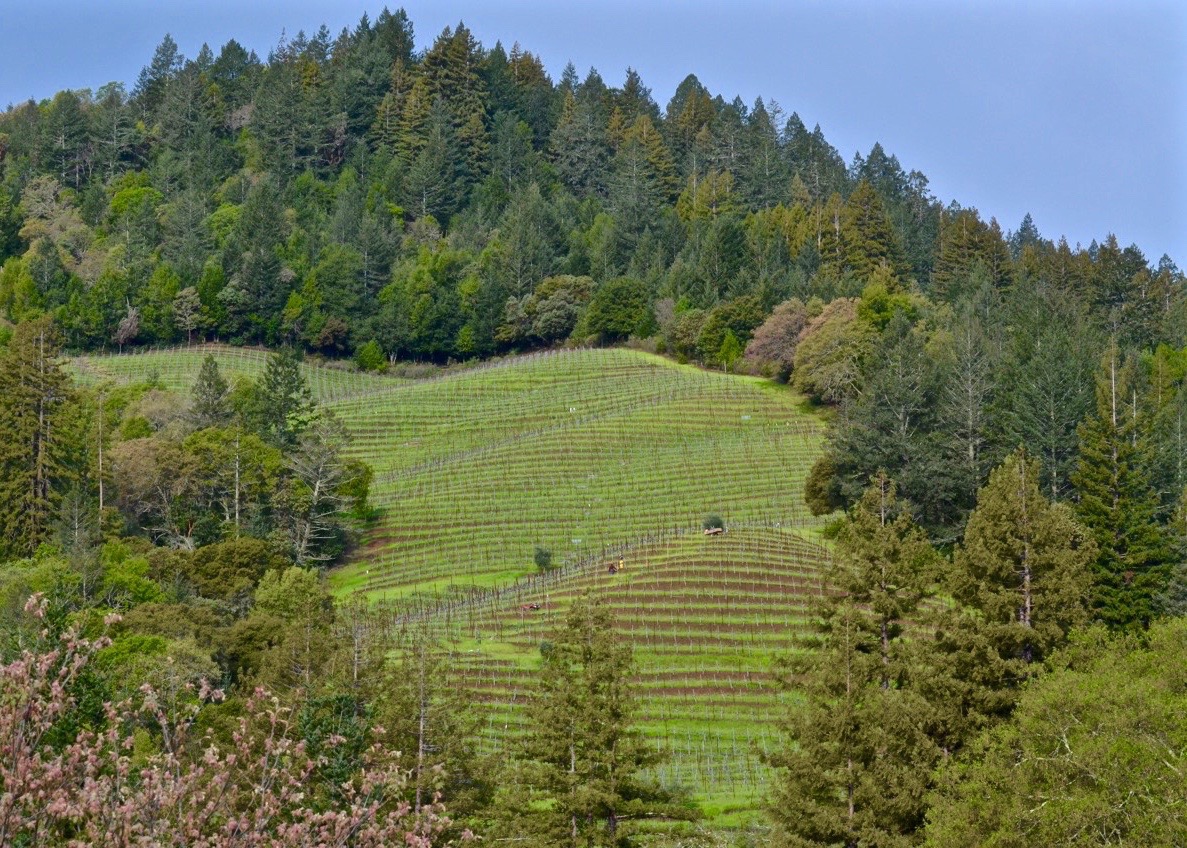 Paratus Vineyards - Main Block - March 2016
Read on for some specific tasting notes about the 2011 and 2012 from the IWR tasting panel:
Paratus 2011 Mount Veeder Cabernet Sauvignon

Despite the cool vintage, the 2011 Paratus reveals both high acidity and excellent ripeness. It shows lovely black and red fruit aromas with hints of a wild character and minerals. On the palate it shows dry herbs, bay leaf, soft round tannins and a persistent finish. This wine is drinking beautifully now.

Paratus 2012 Mount Veeder Cabernet Sauvignon

The 2012 Paratus is riper than the 2011. It exhibits a dark ruby purple and aromas of roasted meat, earth and dark berry fruit. It has a fleshy palate with hints of pepper, earth, and slate. It has firm dry tannins, and should drink well within five years.
Paratus 2009 Vintage Nearly Sold Out, Moving to Library
Many of you have been enjoying the 2009 Paratus since its release, and you might be lucky enough to have bottles of this lovely vintage stored in your cellars. For those of you who have already imbibed your 2009 or are jonesing to add to your collection, now is a good time to do so because we are holding a few cases back at the $70 per bottle price for a limited time before we raise the price to library pricing of $80 per bottle. Of course, club discounts will continue to apply. Click here to place your order.
Rain Totals Approaching "Normal" Levels
For the first time in more than five years we may be seeing precipitation at or even higher than long-term averages. Just this last weekend we received nearly six inches of rain, bringing our annual total at the Mount Veeder weather station to 36 inches for the season. Historical averages for the calendar year have been at about 40 inches. It is a lot of rain, considering how little we got last year. Will this affect the 2016 crop? It is hard to predict but we certainly are celebrating the abundant moisture and are hopeful for a good harvest this fall. Many factors can still come into play, such as heat spikes, late rains, cold, fog, earthquakes, among others, but at Paratus, we will be ready.
Exciting New Players In The Mount Veeder AVA
In addition to Mayacamas Vineyards getting new owners a while back, there have been several other notable vineyard transactions of late. Perhaps the most eye-opening is the purchase by the "Super Second Growth" Bordeaux house, Pontet-Canet, of Villa Sorisso the massive estate of the late Robin Williams. While there are hundreds of acres traversing canyons and ridges near the crest of the Mount Veeder AVA, there are but 18 precious acres of vineyard. The new owners, who are dedicated to the highest quality of wine as evidenced by their incredible track record in the Pouillac, are equally dedicated to dry-farming (as we are) and to bio-dynamic viticulture. They will bring a great sense of quality to the appellation.
Alpha Omega, the high-end, medium sized winery in Rutherford, has made its commitment to quality and character by purchasing a vineyard just up the road from Paratus. And Chris Carpenter, the highly respected winemaker for Jackson Family wines, knows the incredible fruit that Mount Veeder offers through his years of making Lokoya and Mt. Brave wines for Jackson. Now he has purchased his own small vineyard on an adjacent ranch to Paratus. There is a rising tide on Mount Veeder and it's raising all ships.
Spring Tasting Event at The Presidio in April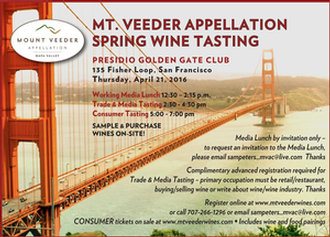 Paratus Vineyards will be pouring current, library, and even future vintages at the annual Mount Veeder Appellation Spring Tasting on April 21 at the Golden Gate Club in San Francisco's Presidio. It is a fun day that attracts wine lovers, writers, sellers, sommeliers, and Mount Veeder appellation devotees. About two dozen other Mount Veeder wineries will also be participating. The early afternoon is geared to the wine trade with an informative panel and the opportunity to interact directly with winery owners. The late afternoon is a separate session that opens to the public and includes wonderful food paired with those same fantastic wines from Paratus and our neighboring wineries. Hope to see you there. Buy tickets now for the best pricing.
Best wishes to you from Rob and Christina Jennings