Dear friends,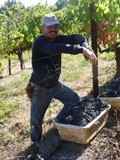 The 2012 harvest is being heralded throughout California's wine country as one for the ages. We were blessed with near-perfect growing conditions through most of the summer and early fall - steady, warm temperatures, no unseasonable precipitation, and a luxuriously long ripening season. At Paratus Vineyards we did not see the huge bump in production registered by many valley floor vineyards but the superior quality of fruit and the prospects for a spectacular vintage make us quite happy.
As we reflect on the Thanksgiving holiday just past, we are thankful for the beauty of Mount Veeder with its yellows and reds of autumn dotting the forests, the creeks coming alive with runoff from the first rains of the season, the last of the orchard fruits - quince, persimmon, and pomegranate - hanging like ornaments on trees that are quickly losing their leafy coats, and animals of every kind busily gathering fuel for the cold, wet months ahead.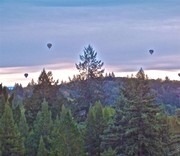 We are also thankful for you, our friends and customers, who have been so enthusiastic in your support of our winery. It is gratifying to hear stories of friends sharing Paratus with others and the excited reactions they receive. It is also gratifying to share Paratus in person with our customers which I have been fortunate to do quite a bit this year, here at the ranch, at various tasting events, and even in a few of your home towns. Christina and I look forward to more of that in the coming year.
The 2009 Paratus vintage, our current release, is now available in wine shops and restaurants in California, Illinois, Wisconsin, New York, and New Jersey. Ask for Paratus when you dine out or at your favorite wine shop and suggest they contact us if Paratus is not already on their list. Word of mouth is how we grow although we are still teeny-tiny with a mere 275 cases produced. Of course, you can purchase the 2009 Paratus directly for delivery to most states by simply visiting our website.

As we head into the December holidays, consider making personal or business gifts of Paratus – individual bottles, multi-paks, or club memberships. It's a unique and elegant way to share the holiday spirit. We would be happy to customize your gift order with special packaging or wrapping. Just drop us a note or give a call and we will make it work for you.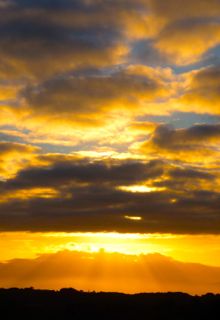 Paratus Wine Club December shipments will go out shortly. Let us know if you have any special shipping requests. Mark your calendars for the 2013 Napa Valley Film Festival, November 6-10. Paratus will again be a sponsor and will host a special Paratus Wine Club event as part of the festivities. We will keep you posted.
Thanks and enjoy the holiday season.
Rob Jennings