"Land is not merely soil; it is a fountain of energy. " Aldo Leopold
Dear friends,
Greetings from Mount Veeder and Paratus Vineyards. It has been a spectacular autumn and we are excited to fill you in on all that is happening up here.
Back-to-Back Killer Vintages
What is a vintner's dream weather from May through October? Clear, blue skies, steady and warm temperatures, and moderate humidity with gentle breezes. Do we get that each growing season? No, sir, not by a long shot.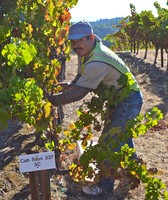 For two unparalleled years in a row, though, conditions have been nothing less than superb, allowing us to concentrate on maximizing grape quality through careful vineyard practices. Timely leafing, dropping excess fruit, and selectively timing harvest for each microclimate are three important ways we get the most out of our fruit. It will be a few years before you are able to enjoy these releases, but it is clear from our vantage point that 2012 and 2013 are going to be banner vintages for Paratus. Hooray!
Let the Magic Begin
Harvest was spread out over several picking dates in order to meet each section's grapes at the peak of their flavor and readiness, and allow taste, maturity, and ripeness to reach a perfect balance.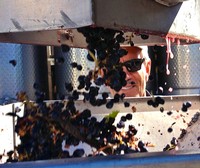 The crush went smoothly under cool and breezy conditions, and our Paratus lots are now fermenting in the winery. Christina and I, together with our winemaker, Massimo -- who is not prone to hyperbole, but is literally jumping up and down with enthusiasm about this year's vintage -- are looking forward to several tastings of the various lots before barreling next month.
Plush Is Where It's At
The 2009 Paratus, our current release, is revealing its own version of magic as it matures and evolves in the bottle. In fact, the '09 may prove over time to be our favorite vintage yet.
Growing conditions that year, which included lots of rain in the spring and a mid-October deluge, presented challenges we did not face this year, but it also infused the vintage with a strong and elegant character that will shine brightly throughout its lifetime. With all the hallmarks of Paratus, such as dark fruit, deep rich flavors of cherry, sweet spices, cassis, and cocoa, this vintage also shows silky, almost powdery, tannins and has a "lovely plushness" to the structure, according to Antonio Galloni of The Wine Advocate. The '09 has the double benefit of drinking beautifully now with the ability to age gorgeously for another decade plus. Adding more 2009 Paratus to your collection now, while it is still available, is a prudent move, we would say.
Juicy Personality
Endowed with what Galloni attests is a "juicy personality," with underlying veins of energy and focus, as well as attractive scents of menthol, licorice, black fruit, smoke, leather, and tobacco, our upcoming release, the 2010, will be available in the spring after a fruitful maturation time in the bottle.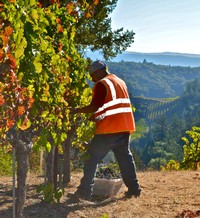 While marketing considerations may prompt most wineries to release a new vintage each autumn, at Paratus we feel it is more important to release each wine when it is ready. The 2010 will be worth the wait.
Of course, you will be able to cellar this and all of our wines for many years, but I recommend providing yourself with some of each vintage to drink right away and some to hold for opening every few months. That way, you will experience the age-old and endlessly captivating conversation between drinker and evolving wine, with each dialogue delivering an exciting variation on a rich theme.
It's Swoon Time
The 2010 Paratus Reserve is making us swoon with enjoyment. This wine, in extremely limited production, is liquid for the oenigods! Paratus drinkers who attended the Paratus winemaker dinner last month got a taste of it over cheese and dessert, and their heady praise reinforced our own high opinion of the juice. Release is slated for 2014 with priority given to Paratus Wine Club members and friends.
Turkey Harbinger
Aside from the normal shortening of days and changing of leaves that signify that the holidays are coming, we are also joined daily by a large gang of 16 wild turkeys who peck around the vineyards plumping up for winter. The birds must know this is a safe haven from hunters looking for a Thanksgiving bird...or is it?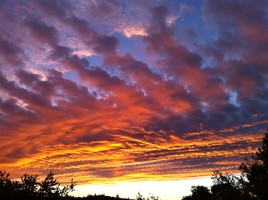 As we head toward the holiday season we pause to give thanks for this magnificent piece of land where we live and work each day. The bounty it produces, its natural beauty, and the peace and serenity it provides keep us committed to its conscientious stewardship. We are grateful for the opportunity to share with you the essence of this place in every bottle of Paratus.
Paratus For the Holidays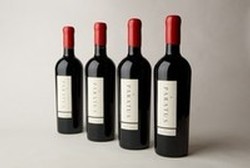 We advise placing your wine orders early for holiday parties and dinners, and for giving. We are happy to make special arrangements to giftwrap or even provide handwritten notes with your gifts. Paratus Wine Club memberships and individual or multipacks of Paratus make fine corporate and personal gifts. Let us know how we can help.
Napa Valley Film Festival
Remember, if you are in the area or thinking of visiting in November, the third annual Napa Valley Film Festival takes place November 13-17. More than 120 films will be shown in 20 cool wine-country venues across four towns, with plenty of wine, food, and discussion to entertain you and stimulate your senses. Did I mention the fantastic parties, celebrities and winemaker dinners? You can read details of these and purchase tickets at NVFF.org. As friends of Paratus, you may use the code NVFF-FAMILY for a special discount of $100 off either a Festival Pass or a Pass Plus. Hope to see you there.
Rob and Christina