Happy Holidays!
Dear //FirstName//,
It is time to share the joy! This season when you're celebrating with bottles of Paratus at dinners and parties or giving them as gifts over the next few weeks, please let us hear your stories and see your photos. Take a moment to snap some pictures of you and your guests raising a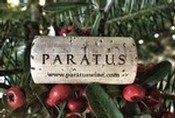 glass of Paratus or of your beautiful holiday table compositions including a bottle or two of our wines. Then post the shots on your Instagram page, making sure to TAG us (#paratusvineyards), or post the photos on your Facebook page (and SHARE with Paratus Vineyards). Or you can email the pics directly to us and we'll do the posting on our Paratus social media pages. You will be eligible for our Paratus Holiday Photo Contest.
There are three categories:
Best Paratus Bottle Shot in Holiday Setting - Prize: Paratus MV Cabernet Sauvignon

Best Holiday Shot With People and Paratus - Prize: Paratus RESERVE Cabernet Sauvignon

Most Creative Image Featuring Paratus - Prize: Paratus Mt. Veeder Chardonnay
Have fun, enjoy Paratus, savor the time with family and friends.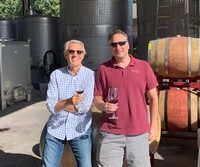 On to the subject of gratitude which we have been reflecting on since the holiday season began at Thanksgiving. We are most grateful for you, our customers and friends, for your passion about our wines – it is what keeps us going. We are eternally grateful for the opportunity to steward this beautiful land in the Mayacamas range – our terroir. And we are so thankful for our vineyard team that tends the vineyards and nurtures the crop, the winemakers who transform the grapes into our magical elixir, and to the many others who help us manage the process of getting the wines into your hands.
There is one other group that we simply could not live without. While we hold thankfulness in our hearts every single day for the firefighters who risk their lives keeping our homes and properties from burning in our volatile fire region, this holiday season we are supporting the San Francisco Firefighters Cancer Prevention Foundation (SFFCPF) with a gift in the name of our Paratus Vineyards Wine Club members. SFFCFP works to detect and prevent cancer in firefighters who are routinely exposed to cancer-causing chemicals in the line of duty. According to researchers, firefighters have a significantly higher risk of getting cancer than the people they protect, in some cases up to 200 percent higher. Let's help keep our firefighters in good health.

All of us at Paratus Vineyards wish you good cheer this holiday season. Whether you are celebrating at home with family and friends or off on an adventure, we hope this finds you healthy and happy. We look forward to sharing our wines with you during these holidays and throughout the new decade ahead. Your support means the world to us.
Peace on earth, good will to all,
Christina and Rob Jennings and the entire Paratus team