Harvest, Wildfires and Two New Releases
Dear //FirstName//,
First things first. For the third straight autumn, Northern California is facing tragic and destructive wildfires. Napa County has been mostly spared this time around, but our brothers and sisters in Sonoma County are being hit hard. You have likely seen in your own news coverage the details of the size and scope of the 76,000-plus acre (as of today) Kincade Fire. Many in the wine business have been adversely affected.
If you would like to help, the Red Cross is a great place to start. Visit redcross.org, call 1-800-RED CROSS, or text the word REDCROSS to 90999 to make a $10 donation. Local community foundations also do a lot to help individuals and businesses during catastrophes. https://www.sonomacf.org and https://www.napavalleycf.org. Simply buying wine also keeps our local economy going during times such as these when tourism numbers go down.
So far this season, Paratus has escaped the losses that we faced during the 2017 fires. Kincade's smoke did not affect our vineyards before we harvested and we were able to bring in all our grapes for the 2019 vintage this month without incident. Remaining diligent and alert, we are ready to defend our vineyards and home against dangerous blazes with chainsaws and fire hoses. We won't be able to relax on this front until the winter rains begin.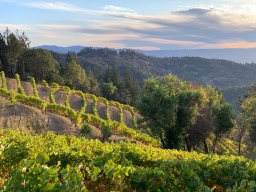 On a more upbeat subject and speaking of harvest, this year's was spread out nicely across various sections of the vineyards that matured at different times. We pick at the moment when Mother Nature and Winemaker Massimo's learned palate determine when we have reached an optimal balance of sugars, acids, tannins and taste in each row.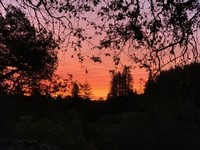 Our Paratus Chardonnay grapes came in first in September and several different Cabernet picks dotted the October calendar. The harvested fruit looked outstanding and tasted even better. As with every harvest day, which almost always begin before sunrise, it was glorious to see the sun come up and bathe the vineyard in golden light while the moon was still in full view.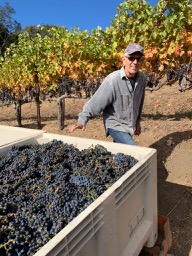 We had more to celebrate than just the harvest last month with the release of two Paratus wines. Both the 2018 Paratus Chardonnay and the 2015 Paratus Cabernet Sauvignon deliver mouthfuls of indelible and intricate wine, underscoring why Paratus is among the top tier of terroir-driven wineries in the region.
A California-meets-Loire wine profile, relatively rare among Napa Chardonnays, is what you'll first notice about our newest Chardonnay. High-altitude growing conditions, combined with traditional winemaking techniques such as unoaked, "sur lees" aging, result in a crisp, clean white wine that pairs like a charm with fish and poultry, greens and cheeses.
Multi-layered dimensions of dark stone fruit, ripe blackberry and mission fig is what you'll experience when you imbibe in the 2015 Paratus Cabernet. Characterized by two years in new French oak, its tannins provide structure and character that complement the earthy elements found in all Paratus Cabernets. It's ready to drink now and will age well for years to come.
Sending wishes for good health and a happy autumn,
Christina and Rob Jennings