September Release of the 2011 Vintage: Rich Aromatics with Hints of Chocolate and Pomegranate
Paratus fans, you are in for a treat when you open the 2011 vintage! After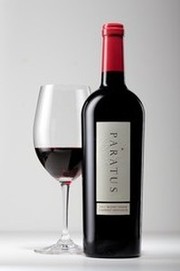 being aged in new French oak for nearly two years, this wine has spent an additional two years in bottle maturing, settling, and integrating its multi-dimensional and intricate components. The wine is well-structured with just the right balance of tannin, texture, minerality, and fruit, all of which stays on the mid-palate long after the first explosive tastes hit the nose and tongue. Before the wine even passes your lips, however, you will be intrigued by the visual of deep, red-violet colors swirling in your glass,​ and your nose will be tantalized by rich aromatics that hint at flavors of fig, ripe raspberry and dark cherry. Close your eyes and imagine the flavor of pomegranate covered in chocolate and you will begin to get the sense of what the 2011 Paratus offers. Are you ready to be wowed?
Particulars of the 2011 Harvest
For Paratus Vineyards, the year 2011 was a year to stay patient, deliberate, and committed to our main goal of making a world-class wine from this very special piece of Mt. Veeder terroir. Hampered by a longer, cooler and wetter growing season and with late autumn rainstorms approaching, we cabernet vintners found ourselves at a fork in the road. Do we pick before the rains when the fruit is not yet ready and suffer the consequences of a poorer quality wine? Or do we keep the grapes on the vine during the rain and risk ruining the crop if the fruit doesn't adequately dry or ripen? At Paratus, we are passionate about quality and do not have the pressures of high quantity so the decision was easy. We chose to keep the berries on the vine through the rains to give them time to meet their maximum potential, and we were rewarded by a spate of hot, sunny weather that provided the ripening time the grapes required, resulting in a beautiful 2011 vintage for Paratus.
So while some talk of 2011 being a "green" year, we advise ignoring broad generalizations about any vintage. Trust your own palate and the ability of committed producers to adapt to the nuances of nature and do what is best for the wine. You will be amply rewarded.
Preorder bottles of the '11 here and, while you are at it, stock up on previous vintages, as they are just getting better and better with time. 2011 shipments, including those for Paratus Wine Club members, will go out in September.
Mount Veeder Appellation September Tasting Event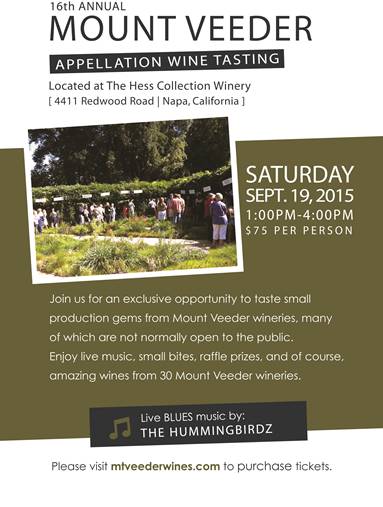 Make sure to add Saturday, September 19 to your calendar – it's the day of the annual Mount Veeder Appellation tasting event at Hess Collection Winery. From 1-4 p.m. toothsome wines will be flowing from the booths of more than two dozen of our neighboring vintners, including large wineries such as Hess Collection, historic wineries like Mayacamas, multi-appellation wineries like O'Shaughnessy and Robert Craig, and small artisanal beauties like our own Paratus. Advance tickets are available here.
Shipping Paratus in the Summer Months
This summer has seen some serious heat spikes, as well as several cool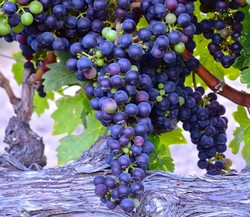 periods. The grapes at Paratus Vineyards seem to be taking it all in stride, proof of which showed up in the evenness of the gradual change in color from green to purple throughout the vinerows since June. The current baking sun rays of August and September will continue to coax the grapes to full ripeness and balance, readying them for the October harvest.
This same heat that is necessary to bring out grape flavors can wreak havoc on wines in the bottle that are stored or shipped improperly. Now you don't have to avoid shipping during the hotter months, as we have worked with our shipper to keep the wine at the correct temperature from our door all the way to yours, wherever that might be. Paratus shipments going east of the Rockies travel in refrigerated trucks from our warehouse to regional hubs around the country. Once there, custom cold packs are added to the boxes for the final part of the shipping process from the hub to your home or office, keeping your Paratus at a wine-friendly temperature. For shipments to the western states, we include the ice packs in the warehouse before they go out.
In either case, it is essential that someone 21 years of age be available to sign for the wine so that the package will not have to go back on the truck and risk becoming warm, as the ice packs only last a day. Perhaps the most foolproof solution is to have your wine shipped to a business address where it can be signed for and held in a cool place for you to take home. Another precaution you might take, especially if you want the wine sooner rather than later, is to select the 2-day shipping option. This means less time in the truck and more in your cellar or in your glass!
Napa Fires Continue
Thank you for all the concerned calls and notes we have received asking about the "Napa" fires. Luckily for Mt. Veeder, the fires have been concentrated elsewhere. But for the residents, wildlife, and firefighters in east Napa County and Lake County the blazes have been persistent and very damaging - over 25,000 acres have burned. While it looks like the fire crews have things under control at this point, it could change overnight. This is a photo we took a few evenings ago looking east from Mt Veeder. Scary stuff.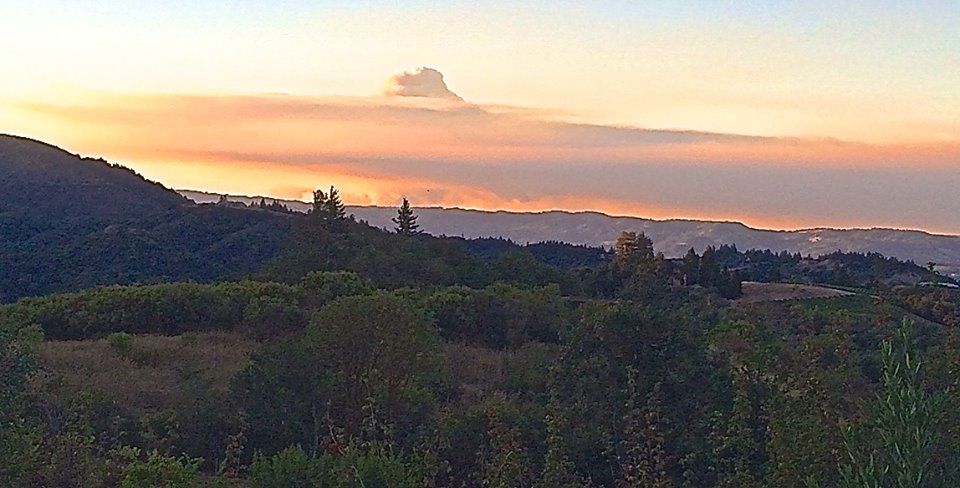 Credit Card Updates
More good news for you: we now accept American Express together with Visa and Mastercard. Please make sure to update your credit card information if it has expired so your club shipments are not delayed. You can make these changes by logging into your account here.
Winemaker Dinners
Look for announcements of upcoming Paratus Wine Club winemaker dinners. We are hosting several in the Midwest this fall and are in the planning stages for some in the west later in the year.
Send Us Your Tasting Notes
As always, please feel free to send us your own tasting notes on any​ vintage, and a picture of you drinking it if you're so inclined, on either the Paratus Vineyards' Facebook page or Instagram account, or by emailing the info. We would enjoy hearing your thoughts.
All the best,
Rob and Christina