Mouth Filling, Yielding to Soft Violets
Paratus fans, prepare yourself for another premier Paratus wine experience with a powerful new vintage!
Read on to see some of the rave reviews we have been getting about the 2010 Paratus Mount Veeder Cabernet Sauvignon, now in full release:
"This…structured, mouth filling, concentrated, old-world style wine is elegant and yields to violets and rich baking spices." Massimo Monticelli, Paratus winemaker
"Veins of underlying energy and focus complement the wine's juicy personality." Antonio Galloni, The Wine Advocate
"A brooding nose of black olive, cedar and blackberry…finishes with power and medium fine tannins," Chris Blanchard, master sommelier
See detailed notes and club members' comments on the 2010 Paratus here.
An additional 2010-vintage unveiling will take place in the fall in the form of our very first Paratus Reserve, a single barrel of the prize pick from the 2010 harvest. It will be available in limited allocations.

Mother Nature is Boss
You have doubtless been reading about California's current three-year drought -- the longest since the 1970s -- that has been tremendously affecting California agriculture as a whole and, consequently, its wine industry. Ironically, the first two drought years, in 2012 and 2013, turned out to be superb wine growing years, and as we now enter the last few months of the growing season during the drought's third year, we are feeling encouraged by the abundance of sun and the late winter rains that we received.
Our non-irrigated, dry-farmed vineyard is hardy and used to having to work hard to deal with rainwater, be it abundant or scarce, as its only source of moisture. Paratus vines' deep roots are experts at finding underground sources of water and, through wet years and dry, our vines have stayed healthy and vigorous while popping out the godsend grapes -- in smaller quantities, yes, but also more intensely flavored -- that go into Paratus wine. Our wine profile is 100 percent reflective of the earth that it draws its nutrients from and is a veritable, singular showcase of the terroir. Few wines can make such a bold statement.
Fun Stuff Coming Up
Planning a visit to Napa in September? Consider spending the afternoon at the Mount Veeder Appellation's 14th annual tasting event with Paratus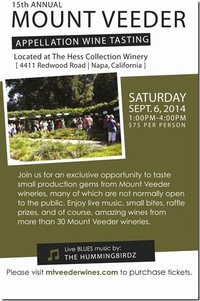 and 30-plus other Mount Veeder wineries on Saturday, September 6, from 1 to 4 p.m. in the beautiful gardens of Hess Collection Winery. It is located just minutes from Paratus Vineyards on Redwood Road. Tickets can be purchased online at mtveederwines.com.
November is another great time to visit Napa. The grapes have been picked and fermentation is underway, the holidays are yet to arrive, and hotels are more reasonably priced. The biggest draw of the month here is the more-and-more talked about Napa Valley Film Festival. Celebrating its fourth year this fall, it promises a five-day confluence of film, food, and wine that will knock your socks off beginning on November 12. Hundreds of superb independent films, as well as some major studio sneak peaks likely destined for Oscar contention, will be at your disposal and the valley will be filled with celebrity filmmakers, actors, winemakers and chefs. Don't miss it! Tickets and more info are available here.
Staying Connected
Over recent years, I have learned two things about social media: 1) that it can be a fun and effective way for people to stay connected, and 2) that I am not very good at keeping up with it, as I tend to get caught up in the engrossing and pleasurable day-to-day tasks of making Paratus the best wine it can possibly be. Thankfully, in February my wife began getting more involved in this arena, and she is now very eager to reach out to and involve our customers using Facebook to explore in more detail the growing cycles and beauty of the Paratus vineyards. An adroit photog and writer, certainly big plusses in this endeavor, Christina also happens to spend as much time as anyone in the vineyard, as she hikes up and down its steep slopes on a frequent basis like a veritable mountain goat. She will bring a fresh and compelling intimacy to our social media interactions, I predict, and for that I say "hooray!"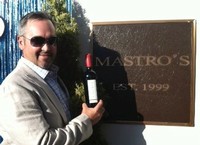 We invite you to freely post pics on the Paratus Vineyards Facebook page of you, your family and friends drinking Paratus, whether it be on abeach, at dinner or lunch (breakfast, even?!), or on a mountaintop somewhere. Friend us, like us, post us, and please tell your friends about us, too.
We get a kick out of hearing from you, whether by email or Facebook, and also welcome your reviews, which we heartily invite you to write right on our website at www.paratuswine.com.
Looking forward to hearing from you,
Rob and Christina Jennings