Dear Friends,
"Elegant," "velvety," "perfectly balanced," "powerful," "delicious," "the best cab I have ever tasted!"
These are just some of the words used to describe our 2008 Paratus Cabernet Sauvignon – and we've heard each of them multiple times. At tastings, at dinners, at formal and casual events, our regular customers are becoming zealots and people new to the wine are becoming customers. We are crowing about this because we are so proud of our wine and want to share the good word with you.
Since the release of the 2008 Paratus Cabernet Sauvignon on September 1, there has been a flurry of activity including the launch of our new levels of the Paratus Wine Club membership, the Mount Veeder Appellation Tasting event, bottling the 2009 vintage, the 2011 grape harvest, and tasting events at the Napa Valley Film Festival. We have also expanded our retail distribution in California, New York, and New Jersey, adding ACME Fine Wines in St Helena, Napa Valley Wine Exchange in San Francisco, Del Frisco's and Milos in New York, among others.
In the Vineyard
The 2011 harvest season was challenging for all Napa growers as Mother Nature threw out some curve balls that caused us to adjust our swings a bit. An unseasonable rainfall (and hailstorm!) in September combined with cooler-than-normal temperatures throughout the growing season created the perfect environment for botrytis, a mold that is most welcome when making Sauternes (the Noble Rot) but can ruin a vintage of Chardonnay, Pinot, Cabernet and other prominent varietals. Luckily for us, Paratus escaped any serious infestation and our fruit ripened beautifully during a spate of warm sunny weather in October.
This is prime example of how our terroir, though challenging because of its steep profile and remote seclusion, helps to act as a deterrent to diseases more common in the valleys. Our 30+ degree slopes create quick and effective drainage in big rains, allowing water to run off rather than seep in and hold onto moisture, which is the best friend of molds like botrytis. Our wide-spaced terraces and upswept hillsides allow ample air circulation which quickly dries grapes and canopies helping to keep molds from growing. And the thick forests that surround us help prevent pests and diseases from intruding from neighboring vineyards.
We harvested our grapes for the 2011 Paratus on November 2, the latest we have ever taken in our fruit. The wait was worth it as the fruit was excellent – deep flavors, balanced tannins, and none of the green vegetal tones one might expect in a year such as this. Yields were slightly lower than average, a bit shy of two tons per acre. With all the botrytis damage in the valleys, expect a lighter year throughout wine country creating shortages and some interesting dynamics in the high-end wine market.
Partner Spotlight
We reserve about a third of our grape production for Paratus, hand-picking our selections and carefully judging the different lots in tank and in barrel during the wine's journey from vineyard to bottle. For the other 2/3 of our production, we work with excellent partners who incorporate our fruit into their exquisite wines. One such partner is Andy Erickson, winemaker for Dalla Valle, Ovid, Dancing Hares, and Arietta, plus his own Favia wines. He is also one of several prominent winemakers involved in the Wines For Wheels program, the brainchild of Gordon Holmes who owns Lookout Ridge Winery, which donates a wheelchair to a needy third world recipient for every bottle of wine sold. Andy takes Paratus grapes and makes an excellent wine that will help so many people who would otherwise never have the aid of a simple wheelchair. I urge you to support this program. Andy's 2010 cab will be the first vintage using Paratus Vineyards grapes.
Paratus for the Holidays
The holiday season is upon us and we hope you all enjoyed a wonderful Thanksgiving. Surely, some of you shared Paratus with family and friends. In the coming weeks of celebrations and holiday gaherings, we will have many opportunities for great food and wine pairings. Some of our favorite winter dishes for pairing with Paratus are:
Rack of Lamb from The Fatted Calf in Napa - we love it grilled but here is a simple recipe for the oven.
Grilled New York or Rib Eye Steak - simple, delicious, perfect. We like meats from Five Dot Ranch.
Braised Wild Boar from Hurley's in Yountville - a taste explosion.
Michael Chiarello's Veal, Pork and Porcini Bolonese - we never tire of this one.
Let me know what your favorites are, I'd love to share in the next newsletter.
Paratus makes an excellent holiday gift – for good friends, for business associates and clients, or for yourself. Giving a wine club membership is another great way to recognize a valued friend or customer. We are happy to accommodate your gift requests with personalized notes, signed bottles, or even gift packaging. Please call or email with any special requests but please do so soon to avoid the holiday rush.
Paratus Tastings
The annual Mount Veeder Appellation tasting in September was a near perfect event. The weather was great, nearly every one of the twenty-two Mount Veeder wineries was there, and the event was sold out. Paratus created quite a buzz and we met many new friends that love our wine. If you are considering a trip to wine country next September, build in an afternoon outing to our 2012 tasting at The Hess Collection. We will keep you posted on dates.
The inaugural Napa Valley Film Festival was a smashing success featuring 100 films, hundreds of wines, beautiful food, and many exciting parties. Paratus was among the wineries to support the festival as a co-sponsor of the Mount Veeder Peak Performance Award for Acting in a Narrative Film. We also co-sponsored the VIP Lounge in Yountville where we poured the 2008 Paratus Cabernet Sauvignon for festival Patrons, filmmakers, and sponsors. You should definitely consider putting this event on your calendar as it is destined to become one of the most talked about and exciting cultural and social happenings in the country.
We are happy to make arrangements for a private tasting for our club members and customers whenever you visit – either at the winery north of Napa or at the ranch, with enough notification. Give a call or drop us a note if you'd like to explore this.
Wishing you all happy holidays,
Rob and Christina
And now some photos from Paratus Vineyards:
Grapes ripening in the October sun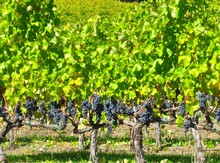 Leafing to allow more sunlight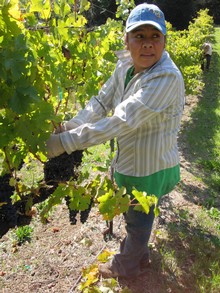 2009 Paratus in French oak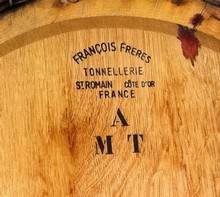 2009 magnums on bottling day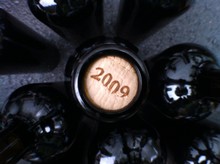 Harvesting the 2011 before dawn by headlamp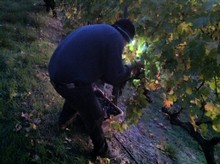 Harvest day at sunrise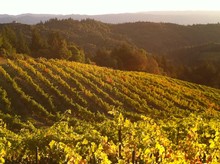 The last pick on harvest day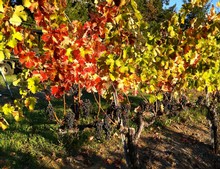 Paratus Vineyards at rest for winter