Dear friends,
Our mountain vineyards consistently deliver beautiful fruit that goes into our exquisite wine year in and year out. We are proud that many of our customers compare Paratus with some of Napa's finest reserve cabernets.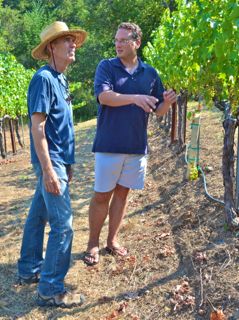 In certain years, the stars align in such a way that one block of our vineyard presents something truly special that can stand as a singular wine apart from all others. 2010 was such a year. We set aside a single barrel of one section lot from this vintage and have carefully monitored the wine during its aging. For the first time, this fall we will bottle a Paratus Mount Veeder Reserve. It earns this distinction for its unique quality, character, and extra-special handling. Twenty-five cases only. We will give you first dibs.
(Paratus winemaker, Massimo Monticelli, and Rob assessing Block 1a.)
The rest of the excellent 2010 Paratus has been slumbering away, first in oak for two years, then in bottle, and will be ready for release later in the year. It is an especially promising wine with classic dark fruit flavors of brambleberry and black plum, leather and chocolate. We love everything about this wine and believe you will, too.
Upcoming Events
Making plans for a visit to wine country? We hope you can build it around the weekend of September 21. That is the date of our annual Mount Veeder Appellation Winetasting event at the Hess Collection-Mont LaSalle. Paratus will be featured along with two dozen Mount Veeder wineries. Check out details here.
For the first time ever, we will be hosting a Paratus Wine Club Dinner that same evening. This will be an elegant affair featuring delectable food from the award-winning Oenotri restaurant in Napa. You may have heard me rave about this restaurant before, as it is Christina's and my favorite.
Now, we will bring their housemade salumis, locally sourced ingredients, and outstanding Italian influenced dishes, carefully paired with several vintages of Paratus (including a sneak peek tasting of the 2010 Paratus Mount Veeder Reserve), to our historic barn on Mount Veeder.
Plan to spend a few hours at Hess Collection in the afternoon sampling a variety of wines from our appellation, then head home or back to your hotel for a swim or nap. Later that evening come on up the mountain to Paratus for the dinner, and let's celebrate the end of summer and the upcoming harvest season together.
The cost for Paratus Wine Club members is $200 for both events. If you can't make both, the individual cost of the tasting is $75 and the dinner is $150. We have a limited capacity for the Paratus wine dinner, so please let us know as soon as possible if you are interested. It promises be a memorable event.
Future Events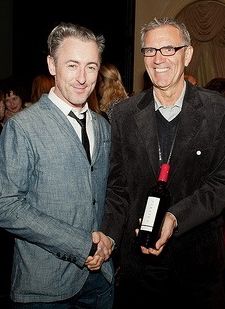 The third Napa Valley Film Festival is scheduled for November 15-17, 2013. This is becoming one of the most talked-about film fests in America because of its unique combination of food, wine, and film in a stunning destination. It is three days of fun, conversation, exploration, and discovery that is not to be missed. Paratus will again play a prominent role in the festival. Club members will enjoy special access and opportunities. Let us know directly if you are thinking of coming.
(Rob presenting actor Alan Cumming the Mt. Veeder Peak Performance Award at the 2012 festival.)
Now onto the present!
What is the cure for the summertime blues? REDS. Deep, dark, juicy cabernets that stand up to the great dinners coming off your grill or sizzling on a plate at your favorite restaurant. There is one red that is perfect for each of these meals: Paratus Mount Veeder Cabernet Sauvignon, you guessed it. Sure, it's nice to have a crisp, refreshing Sauvignon Blanc with that light crab salad at midday by the pool, but when it comes to summer dinners, bring on the cab. I have assembled a list of a few favorite summer meats that pair beautifully with Paratus.
There really is nothing better than a prime steak grilled to perfection and accompanied by a glass of Paratus. New York strip is my favorite because it offers that perfect balance of taste and juiciness. Feel like indulging? A heavily marbled ribeye simply drips with flavor – damn the calories! Lesser cuts like skirt and tri-tip can be great, especially for a crowd, but should never be cooked past medium and may benefit from marinating.
Hot tip: ask your butcher to cut you some petite sirloin steaks. They come from the top sirloin but have a thick fat cap that makes them juicy and delicious when cooked medium rare.
Lamb chops, cut from the loin or rib, are delicious cooked on the grill and served with a glass of cabernet. Have your butcher French cut them, then rub with a garlic-rosemary paste, sear both sides, cook medium rare, and you have a summer dinner that will delight, especially when married to an '09 Paratus.
There is a renaissance in sausage making these days and nearly every community has a butcher or specialty house that makes fresh sausages out of a variety of meats. With cabernet, I would not go too spicy or choose any of the fruit-and-white-meat links. Bratwurst pairs best with cold beer, but a lamb or elk or buffalo sausage, as long as it's not too salty or spicy, would be great with a quality cab.
Burgers are a go-to summer meal that are very easy to mess up by overcooking, using meat that is too lean, or making patties that end up looking like meatballs. Have your butcher grind the meat fresh for you. When forming the patties, don't overwork things or you will lose the texture, and press a slight indent in the center of the burger to keep it from doming.
Hot tip: dice several slices of bacon into small pieces and mix into the ground meat before making into patties. You won't really taste the bacon but your burgers will be delightfully juicy.
Yes, summer is great for cabernets but don't let the heat get to the wine or you will be a sad-sack cab fan. If you do not have a proper wine cellar or cooler, find a spot that is consistently cool and dark but without excessive vibration. Variation of temperature and excessive vibration can be as damaging over time as overheating is. (In other words, do not store your Paratus on the kitchen counter next to the fridge). Before drinking, bring your wine to room temperature but not if that room is 90 degrees. High sixties is your target drinking temperature for cabernet.
OK, now that your mouth is watering for a great meal, let's talk about a great wine. The 2009 Paratus Mount Veeder Cabernet Sauvignon is showing beautifully right now and will continue to improve with age for years to come. The 10 months since its release has allowed the wine to mature and open subtle facets of its makeup. In fact, this vintage, with its structure, minerality and tannic balance, is particularly well-suited to cellaring though it is hard to resist drinking a few bottles right now. If you do order now, be sure to elect two-day shipping to avoid heat damage. It is always good to ship to a place of work, if possible, so there is someone to sign for the wine and keep it in a cool spot for you.
News from the vineyard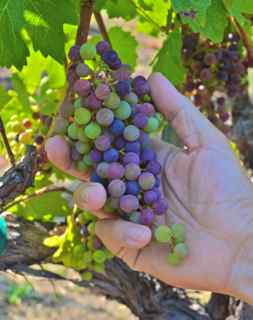 We just completed our midsummer thinning of the vines and the vineyard looks tidy. The canopies have been trimmed to divert energy to the grapes and we have dropped plenty of green fruit to concentrate flavors and allow good air circulation around remaining clusters. Veraison, the time when grapes begin to ripen and change color, is right on track throughout the vineyard. The weather has been terrific with only one major heat spike and an odd cool spree of a couple days. The vines are working hard, struggling to draw water from deep in the underground aquifers and soaking up the abundant sunshine. The forecast is clear and warm; looks like another great year at Paratus Vineyards.
Best wishes to all for a great second half of summer.
Rob and Christina Jennings