Dear Friends,
We love this time of year at Paratus Vineyards. The vines have slipped into a sleepy, dormant state and their leaves have turned to gold.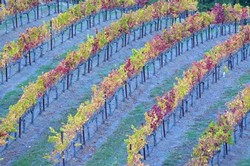 Now the entire vineyard seems to be paved in gold with fallen leaves between the rows and the straw scattered to hold the roads against the winter rains. Only the wild turkeys are active in the vineyards today.
As you may have seen on either our Facebook page or on Instagram (paratusvineyards), the 2014 Paratus has finished the primary fermentation stage and our glorious juice is ready to press into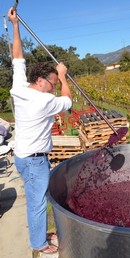 tight French oak barrels for a two-year aging odyssey. The mysterious magic of transformation from fermented grape juice into exceptional cabernet sauvignon has begun! We look forward to the thrill of tasting its progress along the way.
Most of the orchard has gone into hibernation as well but late autumn treasures such as quinces, pomegranates, and persimmons are still clinging to their branches and providing colorful ornaments against a dun landscape. That fruit will come in handy in the holiday feasts coming soon.
This is also a time for exploring the wine cellar, deciding which vintages to feature on Thanksgiving Day (and with leftovers on the days that follow - turkey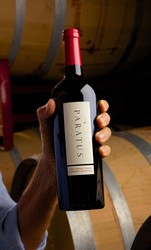 chili anyone?). In addition to a sparkling wine and a sylvaner to start
things off, we may dip into the library to bring out a 2003 Paratus, our first ever vintage, to add richness to the main course. We will definitely feature a vertical tasting with our Christmas Eve roast beast and plenty of the 2010 at dinners and gatherings throughout the season.
How will you feature Paratus this holiday season? Send us your pairing suggestions and we wiil post them on Facebook or Instagram. Send us photos of you and your guests enjoying Paratus; we love to share with our Paratus fans on Instagram and Facebook.
Now is a good time to order Paratus for holiday gifts and your own entertaining. And don't forget to reserve your bottles of the 2010 Paratus Reserve, now available on our website.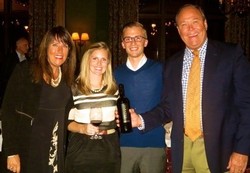 We loved our Paratus Winemaker dinners in Wisconsin earlier this fall which featured delightful pairings by the talented chefs and their staffs at The Milwaukee Club and at Three Three Five in Green Bay. Thank you to all who attended and shared in the culinary and oenerific delights. Here are a few photos from those events.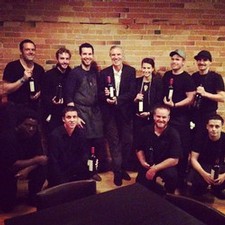 The word on Paratus is spreading fast throughout my Wisconsin homeland. Those who live there, please ask for us whenever you visit your favorite restaurant, club or wine shop including the following:
Three Three Five, Carnevor, Riverbend, Sebastian's, Tess, Plae Bistro, The Paddock Club, Black & Tan Grille, Union Hotel, Pizza Man, Fields at the Wilderness, The Black Pig, Harry's Prohibition Bistro; The Milwaukee Club, The American Club, Milwaukee Country Club, Tripoli Country Club, The Legends Golf Clubs, Chenequa Country Club, Oneida Country Club, Big Foot Country Club; Thief Wine Shop, Ruby Tap, Bin One Eleven, Vintage Elkhart Lake, The Wine Cellar, Timers…and many more soon.
Best wishes to all for a wonderful Thanksgiving holiday.
Rob and Christina