February 2020 Newsletter
Dear //FirstName//,
Here's What's Up in the Paratus Vineyards
While much of the country is still experiencing snowy or rainy conditions, typical for this time of year, Napa is enjoying a very early spring. Temperatures have been in the high 70s, skies are robin's egg blue and cloudless, and we haven't had rain in weeks. It makes for easy living now but what does this mean for Napa Valley vineyards like ours in the long run? We'll have to wait and see.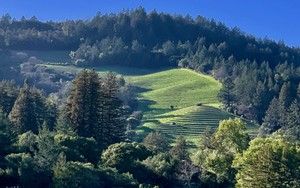 Additional rains could still arrive to fill our underground aquifers while a spate of cooler weather could slow down the early plant-growth cycle, but it is looking like it's going to be a dry year ahead. These rainless conditions can certainly lead to great wines and even large yields, like we saw in 2014, but meanwhile there's work to do.
Many people ask what kinds of things we do in the vineyards during the off-times of year. There's always a lot of attention placed on harvest and the weeks leading up to it, naturally; however, you might be surprised to learn how busy we are around the ranch during the other three quarters of the year. Following is a calendar, starting and ending with harvest, to give you a snapshot of how work rolls out over the course of a year at Paratus.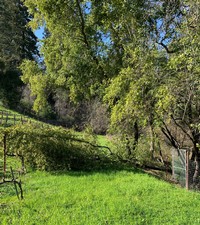 Late October - early November: fix roads, dig water bars, repair gates and fences, spread seed and straw on roads for winter erosion control, secure embankments, and inspect drainage pipes, streams and other waterways for the coming deluges.
November - February: monitor erosion controls, keep streams flowing free, remove downed trees, manage flash floods, repair fences, adjust trellises, and prune vines.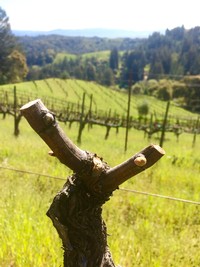 March - May: start looking for bud break and the beginning of the growing season, mow the vineyard grasses, be on the lookout for disease-spreading insects and the dreaded mildew, adjust and train the vines.
May - September: send a crew into the vineyard with string trimmers to control weeds, apply sulphur to vines as a natural combatant to mildew, and monitor for dangerous pests such as the glassy-winged sharpshooter (we have never had one in our vineyard in all our years of tracking).
October - harvest: pray that the vines are finding enough deep groundwater to thrive in the autumn heat, taste grapes for balance and quality, measure sugars with a handy device called a refractometer, and target which vineyard rows and sections will become this year's Paratus.
Replanting Project
In addition to the above, this year we have a small replanting project going on. We took one acre at the very top of our larger vineyard block and pulled all the vines that were weakened or destroyed by the 2017 fires. That section has been reshaped and is almost ready for us to begin installing new vines. We start with planting rootstock, allow it to establish itself in the soil, and then follow with grafting on to the vines new Cabernet Sauvignon budwood.
Raves for Our Current Releases
We have received rave reviews on our current releases from wine writers and those of you who have had the good fortune to taste them. The 2014 Paratus RESERVE Mt Veeder Cabernet Sauvignon is a full, rich, velvety, structured, and very, very elegant wine (91 pts). And our 2015 Paratus Mt Veeder Cabernet Sauvignon is a winner through and through with bright notes balanced by rich body and subtle minerality - bold and delicious. (Not rated yet.) Both cabs are drinking beautifully and will age well for another 12-15 years.
The 2018 Paratus Chardonnay is pleasing the most discerning white wine lovers wherever it is poured with its clean, crisp presentation, its food-friendly profile, and flavors not masked by oak aging. This wine was recently recognized by Wine Enthusiast with a 93-point rating.
Club Member Update
Paratus Wine Club members enjoy special privileges:
Preferred pricing on club and all other purchases

Free or flat-rate shipping depending on level

Access to Paratus library wines going back to 2003

First access to special events and dinners

Club-only sales events
Membership is simple - two-levels, no hassles; saves you money on purchases and shipping; and it's fun, who doesn't love opening a box filled with delectable wines? Join us to enjoy great wine, great food and great people.
That's it for now.
Christina and Rob