Dear Friends,
Wishing you summer greetings, we hope you are enjoying every minute. Here's what's happening at Paratus Vineyards as of August 1!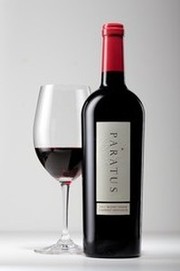 Our big news is the upcoming October release of our 2012 vintage, to which the International Wine Review (IWR) has given high praise. The reviewer writes about the wine's "dark ruby purple color and aromas of roasted meat, earth and dark berry fruit," as well as the "fleshy palate with hints of pepper, earth, and slate. It has firm dry tannins, and should drink well within five years of the vintage and over the next 10 to 15 years - 94 points."
It sounds like an irresistible wine — come on, whose mouth isn't watering at the words "aromas of roasted meat" and "a fleshy palate?" — and it is! Our winemaker, Massimo Monticelli, heralds the 2012 as a "complete package" and one of our finest vintages yet, describing it as alluring and powerful, with undertones of ripe black plum, rich and dense blackberry, and anise.
Massimo knows what he is talking about, having been our winemaker starting with the very first 2003 Paratus. He has helped coax the best from our singular grapes every year since. By the way, the IWR also gave Massimo high praise in its recent overview of the Mount Veeder appellation, saying he makes some of Mount Veeder's most sought-after Cabs (referring, of course, to Paratus!).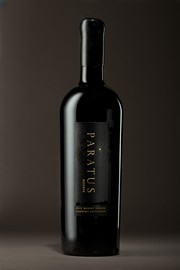 We have talked about the 2012 Paratus, and now it's time to mention the 2012 Paratus Reserve, an exclusive three-barrel lot from grapes whose flavors and quality during the post-harvest aging process stood out as particularly exquisite. The Reserve embodies all the excellent qualities of the Paratus bottling and then carries it to another level, much like Nigel's reference in the movie "Spinal Tap," where on a scale of 1-10, this is an ELEVEN!
Pricing for the 2012 Paratus Cabernet Sauvignon is $80/bottle, and for the 2012 Paratus Reserve, $125/bottle.
Paratus Wine Club Members Receive Special New Discounts
To show our appreciation for the loyalty of our Wine Club members, we have developed new club pricing with even more attractive discounts at all club levels including, for the first time, the entry-level Primus Wine Club. These discounts add up to significant savings for members.
Primus – 3 bottles annually - 5% discount on annual shipment and all additional purchases
Magnus – 6 bottles annually - 10% discount on annual shipment and all additional purchases
Supremus – 12 bottles annually - 15% discount on annual shipment and all additional purchases. Supremus members will save $12 per bottle on the 2012, or $144 less per case.
Club member discounts also apply to library wines, verticals, magnums and reserves.
Wine Club Shipments Scheduled for October
Paratus Wine Club members should expect their annual shipments in October, once temperatures have moderated. We are happy to ship your wines earlier with ice packs if you desire, either by overnight or two-day shipping. Just let us know via email.
Please also be sure your credit card information is up to date so there is no delay in processing your Club order. You can check and update here.
What's Up in the Vineyard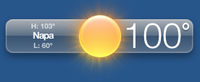 Hot times, summer in the vineyard… I'm taking liberties here with the classic Lovin' Spoonful song, but it aptly describes the sunny 100-degree weather Napa has been experiencing over the past week. Thank goodness for the cooler 60-degree nights, a diurnal effect most prominant in mountain regions like ours and in close proximity to large bodies of water such as our nearby San Pablo Bay. The big temperature variation has the effect of producing both high acid and sugar content in the grapes. Their exposure to heat and sunlight during the day increases ripening while the sudden drop in temperature at night preserves the balance of natural acids. We are seeing the grapes flourish under these conditions, transforming into abundant, multi-colored clusters as the vineyard undergoes veraison.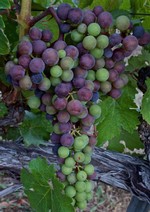 "What about the drought?" people ask me regularly. Well, it is an issue, especially if a vineyard relies on irrigation water. Even if one dry-farms, as we do, vines still need water – during the winter and most especially during the growing season when those roots go searching the aquifers of Mount Veeder for moisture.
Thankfully, we had major rains last winter, both in December and January. February delivered only light precipitation, but then March came in like the proverbial lion and doused us with several good soakings. The net result was 45 inches of rain on Mount Veeder, just above the historical annual average and 50 percent higher than each of the previous three years. Hallelujah!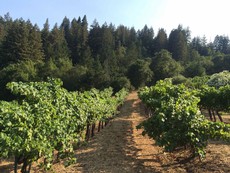 We have had steady weather since and the result has been a great growing season, not only for our grapes but also for our plums, apples, pears and pomegranates. We have redoubled our commitment to sustainable viticultural practices, hand-trimming weeds and mowing unfriendly grasses in the vine rows while using only organic means of fighting undesirable elements, such as mildew. While this translates into extra labor and material costs, it is far better for the health of the vines and the people who work in the vineyard. These practices also leave a healthy legacy behind for generations to come.
Upcoming Paratus Events
Paratus loves company, especially when that means winetasting events. We have several coming up, at home in California and away. Please check out the calendar of Paratus tastings below and join us if you can.
Mount Veeder Appellation Tasting, Saturday, August 6, 2016, 1 - 4 p.m., Hess Collection Winery. Twenty-four Mt. Veeder wineries, dozens of wonderful wines, food, art, and music are there for your enjoyment. Buy your tickets here and make sure to use the code WINE CLUB to get a $10 discount.
Napa Wine Library Tasting at Silverado Resort, Sunday, August 14, 5 - 7 p.m. Paratus will be in great company with the likes of Spotteswood, Cain, Mayacamas, Sullivan, Quixote, and many more local wineries. Maybe play 9 holes beforehand, or schedule a massage at the resort's renowned spa?
Ferry Plaza Wine Bar, the evening of Wednesday, September 21. Rob will be there with several vintages of Paratus and maybe a few surprises as well, so if you happen to be in San Francisco that weekend, please stop by.
Kohler Food and Wine Experience at The American Club in Kohler, Wisconsin, October 21 - 23. At one of the most famous and luxurious resorts in the region, golf, skeet shooting, fly-fishing, hiking, and bird hunting competes with fine food and wine. Paratus will be there in full force, conducting food and wine pairing seminars with chef extraordinaire Chris Mangless of 335 restaurant in Green Bay. We will also be offering vertical wine tastings of Paratus, and a luxurious Paratus wine dinner.
Napa Valley Film Festival , November 9 - 13. If you love food, if you love wine, if you love films, and if you love Napa, this festival is for you. We encourage our Paratus friends to make this an annual tradition. The valley will be buzzing with celebs, creative types, fine wines, the world's best chefs, and Napa's welcoming vibe.
New Markets for Paratus
New York has been a hot spot for Paratus since our first release, making us especially excited about our new distributor for the New York - New Jersey area. They are doing a top-notch job of placing our wine in key restaurants and fine wine shops in both states.
We love the Great Lakes region, as Rob grew up on Lake Michigan and takes any opportunity to pay a visit there — especially if a Packer game is in the mix. Great that Paratus is now being sold in restaurants and wine shops in Wisconsin, Illinois, and Michigan. Look for future notices of Paratus wine dinners and tastings.
Our friends in Florida will be happy to know that Paratus will be available throughout the state at the Fine Wine stores of ABC Fine Wines. Paratus at Florida restaurants is our next step.
Colorado is a new state for us as well with Paratus available in select spots in resort towns like Aspen and Telluride.
Of course, we also feature Paratus in some wonderful dining and bottle shops in California and you can always have your Paratus shipped directly through our website regardless of which state you reside in.
Holiday Gifting, Verticals, Magnums
It is not too early to be thinking ahead to the holiday season and your wine needs. Let us know if you are planning an event and would like to feature Paratus, or if you have special gifting ideas that we can help with. Library wines, verticals and magnums make wonderful personal or business gifts. And for a special treat, consider the 2012 Paratus Reserve.
Sending you all wishes for a happy remainder of the summer. Hoping to hear from you, in person or via email, very soon.
Salut!
Rob and Christina