March 27, 2019 | Winemakers Blog | Christina & Rob Jennings
Winter in the Vineyards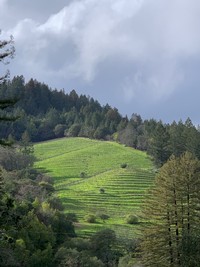 Hello from emerald green Mount Veeder! It has been a wet winter in the Mayacamas Mountains and, although we officially celebrated the spring equinox last week, winter conditions persist. Near-record rainfalls have deluged us since December, and several of the more intensive, multiday storms resulted inchallenging situations up here in the steeps and down below in the valley. Creeks and streams have been at capacity across the mountain range. Drainages in our own vineyards have been tested by the sheer volume of water. Further down the grade, landslides have closed county roads including ours, reminiscent of two years ago. Even though Mother Nature feels the need to repeat lessons, we do learn from the past. Case in point: we spent a good part of the dry summer months shoring up creek banks and culverts in the vineyard and they held up very well, minimizing runoff and erosion.
What does the massive amount of rain mean for our vineyards and our future wines? The good news is that the underground aquifers across our property are filling higher with every rainstorm, storing water for our deep-rooted, non-irrigated vines during the dry and hot summer and fall. It is always hard to predict what the rest of the growing season will bring – heat spikes, early or late precipitation, or high winds — all of which can have an impact on the vintage, but at least it looks like the vineyards will have enough to drink this year.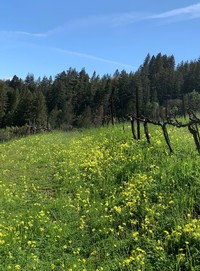 In between wet spates, we have had some beautiful bursts of sunshine that have brought forth wildflowers, green grasses, and fruit blossoms. It has also allowed our work crew to get into the vineyards, complete the annual vine pruning, and prep the trellises for the inevitable growth we expect in late spring and summer. Cutting the old canes to allow for new shoots to emerge from the aged spurs that stretch across the cordons is essential to the health of the vineyard, the land, and each future vintage of wine grapes. Vines want to grow and spread and will do so wildly, at the expense of grape growth and maturity, if left untended. Cutting back last year's growth conserves the vines' energy so they can go full bore when the new buds break in a few weeks.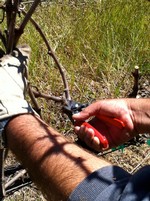 Leaving the pruned canes in the vineyard rows to decompose allows the natural cycle of composting to reinvigorate the soils with minimal intervention. The grasses, clovers, and mustard that comprise the cover crop between the vinerows not only hold the soils in place during winter rains but also compost back into that same soil when mowed in late spring. Stewardship of the land sometimes means trusting nature to function as it's designed, with perhaps a little help here and there through natural means.
The payback is a yearly bounty of juicy, delicious grapes and the wines that we create from them.
More soon, Christina and Rob
Comments
DennisGer
@ Apr 9, 2019 at 3:52 PM
Пункт секционирования Реклоузер Псс-6, Ктп комплектные трансформаторные подстанции москва, Производство ктп москва и другое на нашем специализированном сайте: - Добро пожаловать!https://sviloguzov.ru/
web hosting coupon
@ May 7, 2019 at 11:38 PM
This article is a pulling in the abundance of edifying information that is fulfilling and a creature degree of make.
alufimfojin
@ May 14, 2019 at 12:47 PM
http://mewkid.net/buy-amoxicillin/ - Amoxicillin 500mg Capsules Amoxicillin 500mg Capsules ubl.cpig.paratuswine.com.bog.iy http://mewkid.net/buy-amoxicillin/
atrobozyReata
@ Nov 12, 2020 at 10:26 PM
free casino slots no download http://onlinecasinogameslots.com/# - casino slot free 300 free slots no download slots online free vegas world free games online
Healthcarepill
@ Mar 7, 2021 at 11:44 PM
Nice post! This is a very nice blog that I will definitively come back to more times this year! Thanks for informative post.
BrianMip
@ Mar 14, 2021 at 7:45 AM
Hello, guys! I have really enjoyed the infromation above and after this i hope that you will visit my link https://writingservice-us.com/ right here.
tetra heater 50
@ Oct 20, 2021 at 5:48 AM
Thanks for taking the time to discuss this, I feel strongly about it and love learning more on this topic. If possible, as you gain expertise, would you mind updating your blog with more information? It is extremely helpful for me.