December 25, 2018 | Christina & Rob Jennings
Paratus Year-End Update
Season's Greetings and a Look Back the Year Just Passed
May this letter find you in your "happy holiday place," wherever that may be, with family, friends, traveling, or cozily ensconced at home.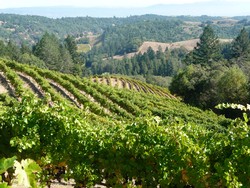 We continue to feel so blessed in living where we do on Mount Veeder in the Napa Valley, being able to enjoy the towering coastal redwoods surrounding us and savor the apples, pears, persimmons, pomegranates, and quince growing in our orchard.
The crowning glory of our estate is, of course, the Paratus vineyards! They continue to produce the most extraordinary, single-vineyard, estate-grown Cabernet in the region. Adding to this, we have recently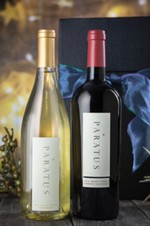 released the first-ever Paratus Chardonnay, made with grapes grown by our neighbor on Mount Veeder, and just the fourth vintage of the carefully selected and august 2014 Paratus Reserve. Along with these two releases was our twelfth vintage of the Paratus Mt. Veeder Cabernet Sauvignon, the superb 2014. A dozen vintages, something we are very proud of.
In this past year immediately following the Napa Valley fires, we have spent a good amount of energy in recovery mode, making infrastructure repairs and rebuilding elements of the vineyard. We continue to support our brave Mt. Veeder/Dry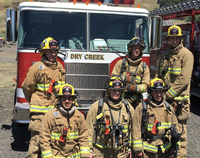 Creek volunteer fire department in many ways including bringing lunch to their twice-monthly training sessions. Our hearts go out to the victims of the most recent devastating fires who lost so much in Los Angeles and Butte counties. Please consider a year-end gift to the Red Cross, or other fire-related charity.
To have added many new club members this year is gratifying, and we are delighted to have met so many of you in person at Paratus wine dinners and tastings. Our network of distribution has expanded in Florida, New York, New Jersey, Illinois, Wisconsin and California, bringing Paratus to numerous new restaurants and fine wine stores.
We hope you are liking the added new flexibility of our Paratus Wine Club membership and new privileges, such as free shipping at the Supremus level and a low flat shipping rate for Magnus members. Let us know how else we might be helpful.
Thanks very much for your interest in and support of Paratus. Merry Christmas and Happy New Year!
Christina and Rob Jennings
Comments
Commenting has been turned off.