July 10, 2019 | Christina & Rob Jennings
Paratus Summer 2019 Update
SUMMER SALE PLUS NEW CHARDONNAY
Happy Summer to You!
We are enjoying the warm days and cool nights in Napa that make this season one we look forward to all year. These are the conditions that make our vines flourish, allowing them to reward us with rich flavorful grapes at harvest time. We are expecting a long spate of hot weather in the coming weeks that will bring growth and maturity to the grape clusters ahead of the crucial August/September ripening phase.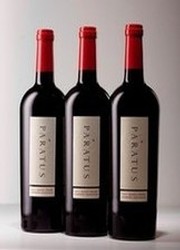 Paratus Wine:Dress It Up or Down
Summertime comes with much outdoor entertaining of friends and family. On Mt. Veeder we like to prepare most of our summer dinners on the barbecue grill and eat them on our screened porch. Whether we cook gourmet burgers, vegetables from our garden or elegant steaks, Paratus Cabernet is an incomparable complement to the meal. Our wines are versatile and dazzle on both casual and formal occasions. Don't be shy about putting a few bottles of your favorite Paratus vintage on the picnic table alongside cold bottles of beer.
Impromptu Summer Sale
Looking to fill in the cellar or prep for a dinner party? We are making several of our older vintages available at a special price for a very limited time. Click here to order 2010, 2011, and 2012 Paratus Cabernet Sauvignon at $10 off/bottle.

New Chardonnay
Exciting news: We just completed bottling our Chardonnay from last year's impressive 2018 harvest. The inaugural 2017 Paratus Chardonnay was sold out so we doubled our Chard production with the 2018 vintage. This is a very limited release and preference will be given to Paratus Wine Club members.
The grapes are sourced from the same neighboring high-altitude Mt. Veeder vineyard and we have retained the same classic winemaking style for the 2018 as we used for last year's Chard vintage - unoaked, unfiltered, no malolactic fermentation. The result: a restrained yet full-bodied Chardonnay with a complex flavor profile and crisp, clean finish. We love it and so will you.
Preorder your preferred allotment for the 2018 Chardonnay release this fall.
Here's a glimpse into the Chard bottling process. Enjoy this 30-second video.
Happy summer indeed!
Christina and Rob
Comments
Commenting has been turned off.