October 9, 2018 | Winemakers Blog | Christina & Rob Jennings
2018 Harvest Update
It is harvest time in Napa – exciting, busy, and strikingly beautiful. The hills are streaked with reds and yellows, the skies are clear and blue, and the sweet aromas of grape must and fermenting juice waft through the air. We love it!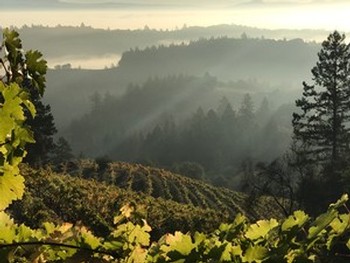 At Paratus, we have been busy for many weeks in the orchard and vegetable garden harvesting sweet apples, pears, plums, figs, and tomatoes, but the pomegranates and persimmons still have some hang time and will add beautiful orange and red highlights to the ranch's landscape as we move into the holiday season. The autumn weather has been great with warm days and cool nights – perfect for the October "wrap." We did have some unexpectedly big rains several weeks ago but things dried out just fine and now we see a soft green carpet of new young grass in the meadows.
After letting our Cabernet grapes bask in the warm October sun to fully ripen and balance out the essential acids, tannins, and sugars, we finally brought in the 2018 Paratus vintage this week. We experienced a lighter than normal yield this year, partially due to losing some vines to the fires last year, but the quality of the grapes is exceptional. Just wait until 2022 to see what we mean!
Four years may seem like a long time to wait but that is what it takes for our Paratus Mt. Veeder Cabernet Sauvignon to fulfill the Latin root of its name – "ready." In that spirit, we have just released the 2014 vintage of our Paratus Mt. Veeder Cabernet Sauvignon and Paratus RESERVE – spectacular!
Many thanks to our year-round vineyard team, many of whom have been with us for over a decade; we could not make Paratus without them. Some of our seasonal crew have worked our harvests for six, seven, even ten straight years. It is great to have them back.
Now on to the winemaking!
Happy autumn, Rob & Christina
Comments
Commenting has been turned off.